Booklet Binding
We have many options to choose from when you need to bind your booklets, manuals, or catalogs.
Here are some of the more popular binding products and services we offer:
Coil Binding
Coil binding, also known as spiral binding, is a commonly used bookbinding style for creating documents, reports, presentations, and proposals.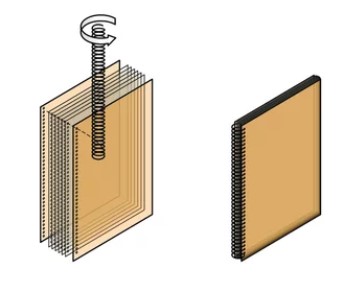 This binding style is known by a number of names, including spiral coil, color coil, ez-coil, plastic coil, spiral binding, plastikoil and coilbind. Documents bound with spiral coil have the ability to open flat on the desk or table and offer 360° rotation for easier note-taking. Durable and strong, this binding method is often used for documents that need to be mailed. Spiral-coil-bound spines are available in more colors and sizes than other binding styles. Please call us to learn about the many options we have available.
Comb Binding
Comb binding is one of the many ways to secure pages together into a book. This method utilizes round plastic spines, 19 rings, and a hole puncher that makes rectangular holes.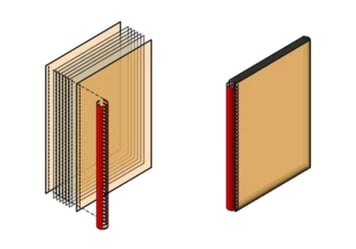 Comb binding is sometimes referred to as plastic-comb binding or spiral-comb binding, too. Our printing firm has a large variety of different-sized comb bindings, ranging from 3/16 of an inch (for 10 sheets of 20# paper) up to 2 inches (for 400 sheets of 20 pound paper). We can also provide a variety of different colors to enhance the appearance of your project.
Perfect Binding
Perfect binding provides a result similar to that of a paperback book. Issues of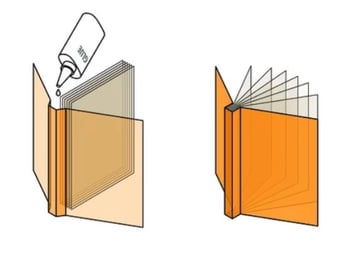 National Geographic are one common example. At our printing firm, we get many requests to bind software manuals, instruction manuals, and many varieties of soft-covered books using perfect binding. We print the heavy-duty covers separately and attach them at the spine with a strong, flexible glue. We then trim the books on three sides to make them look clean and professional.
Stapling
Stapling is one of the simplest – and most effective – methods of binding used today. In addition to stapling loose sheets together through the front of the page, we can saddle-stitch (staple through the spine) magazines and other multi-page items such as catalogs, annual reports, and newsletters.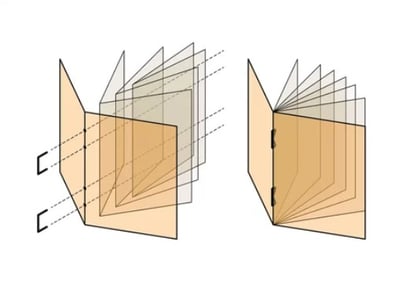 Saddle-stitching is a sturdy, durable, and attractive binding option. The number of pages our saddle-stitching equipment can bind together varies depending on the weight of the paper used, but the results are the same every time: nice, clean, and professional.
Wire-O Binding
Wire binding is one of the most popular commercial bookbinding methods used in business today.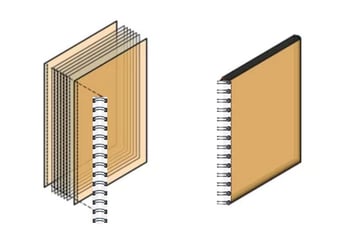 Known by a number of different names, including spiral notebook binding, twin loop wire, Wire-o, and double loop wire, wire-bound materials can look extremely creative when a colorful wire is used. We offer several different processes of wire binding. Although it is difficult to add or delete pages once a document has been wire-bound, almost everyone agrees that wire-bound documents look very, very nice.