Debossing
Debossing works the same as embossing, except the surface of the page is recessed, rather than raised, by the effect. The process involves the same types of dies and takes place on a letterpress.

Debossing and embossing are distinctive touches most commonly used for "showpieces" such as announcements, invitations, postcards, business cards, and stationery. But they're just as useful for brochures, annual reports, and any other printed piece you want to stand out from the crowd.
Die Cut
Not all printing projects require a nice, straight cut along the edge of the page. Some need curved cuts, odd-shaped cuts, fancy cuts, or internal cuts. When your design calls for a specialty cut, call on the experts at our print shop.Our bindery department can handle any cutting need. With access to state-of-the-art die-cutting equipment, we'll work hard to ensure the perfect cut every time. Choose from hundreds of specialty dies, or have one custom-made to your unique specifications. Call for details. Our die-cutting services are great for:
Table tents
Door hangers
Die-cut postcards
Rounded corners
Keyhole cuts
And more
Embossing
Embossing is an art as old as printing itself. The process involves pressing paper between specially cast metal dies attached to a letterpress. The result is a raised impression on the page that matches the design of the die.

Embossing dies can range from very simple shapes with flat, smooth surfaces to more elaborate creations with contours, depth, and intricate detail. In either case, the result is a crisp, elegant effect well-suited to any printed piece.
Foil Stamp
Looking for a unique and classy way to spice up your printing?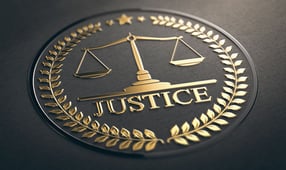 Consider adding a foil-stamped line, logo, or other design element to the page. Use foil stamping to dress up your stationery, letterhead, business cards, booklet covers, report covers, presentation folders, and specialty print jobs.
Our commercial-quality foil stamping equipment uses heat to apply a thin layer of metal foil to a printed sheet of paper. Gold, silver, and a variety of other colors are available. We can help you choose the right foil or combination of foils as well as the right placement on the page to give your piece the perfect feel.
Invitations
In recent years, letterpress printing has become the method of choice for wedding and event planners looking to make their invitations as memorable as the occasions themselves. Known for producing rich textures, beautiful lines, and crisp, clear typography, the centuries-old process delivers elegant, distinctive results every time. A letterpress invitation can capture the significance of any event you're planning. We offer a variety of traditional and non-traditional paper choices and will work with you to make your invitation stand out and look great.
Scoring and Slitting
When you need to fold a printed project that is on heavier card stocks of paper, we suggest you have it scored.

Scoring puts a groove in the paper that ensures the fold is accurate and doesn't damage the ink or paper.